Seen your provider lately? It's probably time.
The COVID-19 pandemic delayed important screenings and checkups. Let's fix that.
By Shelby Rojas, NP, Speaks Spanish & English, Oak Orchard Health Batavia
If you've put off seeing a provider because of COVID-19, you're not alone. Even though life looks a little closer to normal now, a lot of people are still holding off seeing their medical providers, or dentist, or getting important health screenings. But it's important to make sure you're headed in the right direction with your health.
Get screened to manage your conditions.
By checking in with your Oak Orchard Health provider, you can make sure that your medications are doing what they're supposed to do and screen you for serious diseases. In some cases, it's important to check in every three to six months, depending on your age and your challenges. For instance:
• Over 40? You may be overdue for cancer screenings like mammograms, pap smears, colonoscopies, or others.
• Diabetic? It's important to get blood work done more frequently so we can assess your numbers. Especially if you're on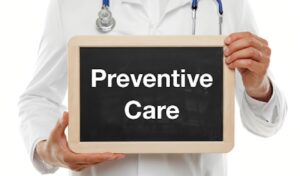 insulin. You also need to be checked on a regular basis for Diabetic Retinopathy, a condition that can affect your vision.
• That's also important for patients who have high cholesterol or thyroid disease. Know your numbers!
• If you're on blood pressure medication, it's crucial to be checked on a regular basis.
• Mental health is equally important. If you haven't checked in with your provider or therapist, don't wait any longer to make an appointment at Oak Orchard Health. We want to make sure you're doing okay.
Keep your smile healthy, too.
Many folks couldn't get regular dental checkups during the pandemic and now it's time. Just know that dentists and dental hygienists are trying to catch up, too. So, when you make an appointment, they may not be available right away. And if your checkup is months away, make sure you mark your calendar, so you remember to keep your appointment.
We'll help with your other healthcare needs, too.
• Get a ride to your appointments—If it's hard for you to keep appointments because of transportation, we can help. Oak Orchard Health can arrange a ride for you. Did you know we have our own van? We can help you get to appointments and to labs for bloodwork. And if you're on Medicaid, there are transportation resources for you, too.
• Connecting you to specialty providers—Your Oak Orchard primary care provider can do more than see you for a physical or sick visit. They can make sure you're getting caught up on other important care, like routine eye exams, foot care for diabetics, and mental health support. Even if we don't offer the service at one of our facilities, we can connect you to someplace that does. And if you have financial concerns, we can work with you to afford the care you need, too. Call (585) 637-3905 and ask for a facilitated enroller at your nearest OOH office.
• Connecting you to community resources—Our staff are connected to other organizations in the community that can help you in different ways, from the Office of the Aging to Social Security to Medicaid. And if you don't have health insurance, we can help you find the coverage you can afford.
Contact the Patient Engagement Services at Oak Orchard Health at (585) 589- 5613 ext. 1062.
No judgment—just encouragement.
COVID-19 has been hard on everyone. People don't always like to confide in others about their health problems. Whether it's a history of drug use, a change in your weight, or some other sensitive personal issue, there's no reason to feel embarrassed when you're getting healthcare. Providers aren't here to judge, we're here to help.
Get started today.
Call your local Oak Orchard Health office to set up an appointment to get caught up. And if you're in the Batavia area and your first language is Spanish, I'm a Spanish-speaking provider and I'm happy to communicate with you in Spanish. It can make the visit easier.