LET'S GROW HEALTHIER TOGETHER.
The Karen D. Watt Center
in Albion
The birthplace of our first health center location was in 1972 in this historic Erie Canal town. It is also the inspiration for our name—which comes from Albion's own Oak Orchard Road. Today, we continue to serve the town's diverse community at our Karen D. Watt Center, offering primary and pediatric care, behavioral health, as well as our Wellness Center right next door. Albion is also served by our mobile dental unit. And, like all of our locations, our Albion office provides services regardless of ability to pay. Call (585) 589-5613 to make an appointment.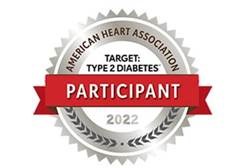 The American Heart Association (AHA) recognized the Albion Health Center for earning Silver level recognition as part of the 2022 Check. Change. Control. Cholesterol™ Recognition Program! The Center has shown improvement in the quality of care for its patients through awareness, detection and management of type 2 diabetes and cardiovascular risk factors.
SERVICES
Primary Care | Pediatric Care | Behavioral Health
Oak Orchard Health
301 West Avenue
Albion, NY 14411
Medical
Tel: (585) 589-5613
Fax: (585) 637-2375
Mobile Dental Unit
Tel: (585) 267-9236
The Wellness Center
317 West Avenue
Albion, NY 14411
Tel: (585) 589-5613
HOURS
Medical
Monday-Thursday: 8:00am – 8:00pm
Friday: 8:00am – 5:00pm
Phlebotomist
Monday – Friday: 7:45am – 3:15pm
Behavioral Health
Monday-Friday: 9:00am – 4:00pm
limited evening hours available
AFTER HOURS
585-258-3386
Meet the Oak Orchard providers in Albion.
Theresa Ruge, LMSW Behavioral Health Therapist
Kenyetta Oliver, Behavioral Health Care Manager
Taylor Bates, LMSW, Behavioral  Health Therapist
Jane Green, LMSW, Behavioral  Health Therapist
Karen Mawn, MD, Pediatrician