Shortage of Dental Hygienists is Nationwide
By Dr. Rachel Nozzi, DDS, Chief Dental Officer, Oak Orchard Health 
Many of you have had trouble getting an appointment for a dental cleaning. You also may remember that during COVID, Oak Orchard Health (OOH), like many other dentists and community health centers, had to close their dental practices or only see people with dental emergencies. According to a 2020 report from the American Dental Association (ADA), 76% of dental offices saw only emergency cases for the latter half of March 2020. In NYS, dental offices were allowed to resume regular dental procedures June 2, 2020 with restrictions.
During the pandemic, many dentists in our area retired or closed their offices due to the Covid regulations that were hard to fund and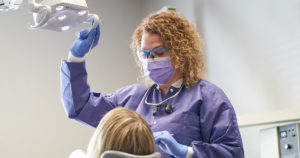 sustain. Offices left open were not able to see as many patients and some discontinued taking certain insurances, like Medicaid. This has left Oak Orchard Health as one of the few dental centers that take most insurance including Medicaid.
While the state of emergency for the pandemic is over, it has left Oak Orchard Health with a long waiting list based on that backlog initiated during the pandemic. Couple that with the workforce shortage of dental assistants and dental hygienists, and you will better understand why it's difficult to get a dental appointment. And it's not just OOH, this is a nationwide problem.
Less dental assistants and hygienists available to hire
The American Dental Association (ADA) has stated in a recent report that the dental sector is facing a serious workforce shortage. Vacant positions in dental assisting and dental hygiene have reduced dental practice capacity by an estimated 10% nationally. One in three dentists who do not have full appointment schedules indicates that trouble filling staffing positions is a contributing factor. Workforce shortages were initially attributed to the COVID-19 pandemic. We now know that is just part of the story. Enrollment in dental assisting programs has been trending downward since 2015, and the pandemic had a negative impact on dental hygiene program enrollment. While there has been some recovery of enrollment in dental hygiene programs, data suggest that dental assisting program enrollment will not rebound soon. As a result, workforce shortages are likely to remain an issue for years to come.
What are Oak Orchard's next steps?
This workforce shortage isn't going away anytime soon since the pool of applicants for those positions is less and less. However, here's what we're doing to help provide dental services at Oak Orchard Health:
1. We are actively looking for more dental assistants and hygienists including reaching out to graduates as they complete the program and advertising on employment sites.
2. All our dentists are also doing cleanings for patients.
3. OOH dentists are still treating patients for fillings, extractions, dentures, root canals, and crowns.
4. As soon as we have cancellations, we call patients to get them in.
5. Be sure to have your children receive dental cleanings from the OOH Mobile Dental unit when it visits their school in Orleans County. Follow-up care for kids can be received at our Albion Dental Center.
We continue to recruit for dental positions and hope that this workforce shortage will change quickly.