LET'S GROW HEALTHIER TOGETHER.
The New Mobile Medical And Dental Units
The new Mobile Medical Unit was launched in April, 2022  and the Dental Unit (see below) in October. The Mobile Medical Unit will provide medical and behavioral health services. Oak Orchard will also have the ability to do COVID testing and vaccinations, other vaccinations, routine health screenings, chronic disease checks, and so much more. We will work collaboratively with the County Health Departments, partnering agencies, the Head Start Programs, and the homeless to bring the Mobile Medical Unit closer to those in need.
We are currently seeing patients on Wednesdays between 12 to 8 PM. If your organization is in need of these medical services being brought to your patients, please reach out to Sean at (585) 637-3905 ext 264.
The New Mobile Dental Unit is Available to Students
This new Mobile Dental Unit (MDU) is a state-of-the-art vehicle providing dental care to students in the Albion, Medina, Holley, Kendall, and Lyndonville School Districts. The MDU has two treatment rooms where students will receive comprehensive dental care.  Services have started with the Albion School District. Vision screenings are also available. If you have questions, please call 585-267-9236. Parents, you will need to fill out this consent form and return it to your child's teacher. You can download it here: Mobile Dental Unit Consent Form
The Mobile Dental Unit is also equipped with Panorex and Nomad machines so we can take X-rays on the same day kids have their cleanings. This allows us to diagnose and treat more complex dental problems. We even have a wheelchair lift for anyone who needs it.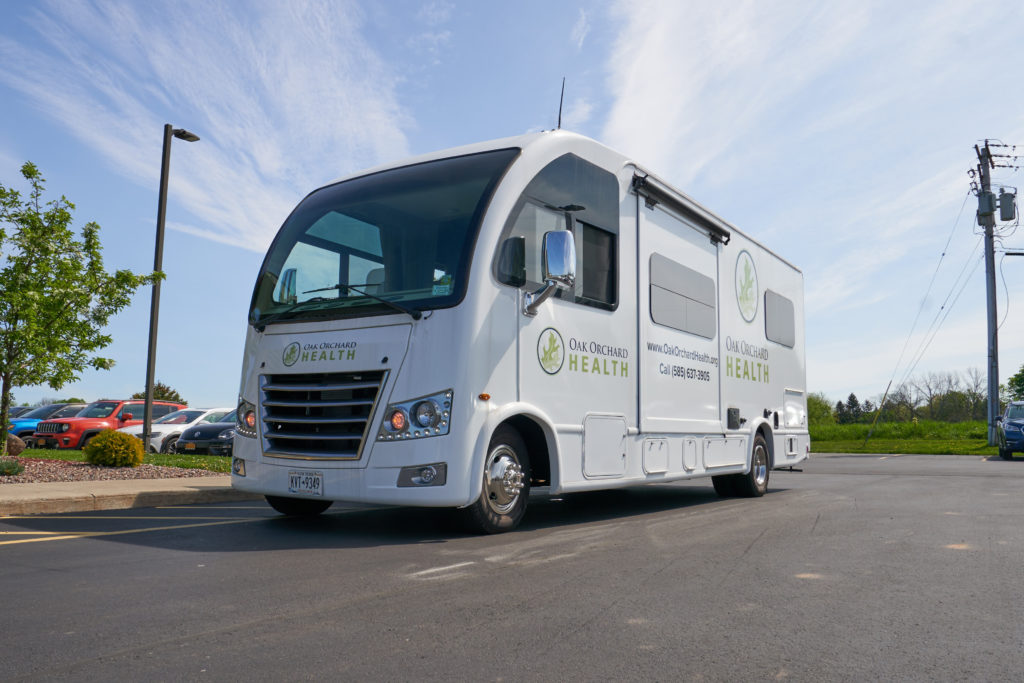 SERVICES
Medical | Dental | Behavioral Health Care
The Mobile Medical Unit is currently available and providing medical and behavioral health services.
Permanent Location for the Mobile Dental Unit
317 West Avenue
Albion, NY 14411
If you know of a site where the Oak Orchard Mobile Medical Unit could help people in the Orleans, Genesee, Wyoming, or Western Monroe County communities, please fill out the form below, and we'll get back to you!
Providers on our Mobile Dental Unit 
Sandy Ya-Chen Chang, DDS
Wendy Nupp, RDH
Joseph Zaremba, DDS
Denise Beardsley, MDU Coordinator