Breastfeeding support and so much more.
The Oak Orchard Health WIC Program provides eligible families with breastfeeding support, nutrition counseling, health education, health care referrals, referrals to other services, and nutritious foods. WIC is a federally funded supplemental nutrition program for Women, Infants, and Children (WIC).
Our nutrition staff consists of Registered Dietitians and Certified Nutritionists. Breastfeeding support and counseling is provided by Internationally Board Certified Lactation Consultants (IBCLC), Certified Lactation Counselors (CLC), and our WIC Breastfeeding Peer Counselors. All our staff is committed to providing participant-centered care to ensure each family's needs and concerns are being met.
WIC OFFERS
Nutrition education and counseling to eligible families in Genesee, Orleans, and Western Monroe Counties
Breastfeeding promotion and support provided by trained breastfeeding staff, available 24 hours a day. Free breast pumps available when needed.
Participants receive food benefits on an eWIC card for healthy foods such as milk, cheese, eggs, whole grain bread/pasta/tortillas, cereal, peanut butter, dried or canned beans/peas, baby foods, fruits, vegetables, and more. WIC also provides infant formula for those babies who are not breastfed.
During the summer, families enrolled in WIC are eligible to receive Farmer's Market Checks. These checks may be used to purchase locally grown produce at participating farmers' markets.
Referrals to other health and community resources.
WHO IS ELIGIBLE?
To qualify for WIC, individuals must meet categorical, residential, and financial requirements.
Applicants for the NYS WIC Program must be a pregnant woman, an infant or child up to 5 years old, a mother of an infant up to six months old, or a breastfeeding mother with an infant up to 12 months old. A foster parent or caretaker can also apply for their children.
Applicants must be a resident of New York State. WIC will never ask for proof of citizenship.
Applicants must meet income eligibility guidelines or receive Medicaid, SNAP (Food Stamps), or TANF (Temporary Assistance for Needy Families). See guidelines here.
SCHEDULE AN APPOINTMENT
If you think you may qualify for WIC services and want to get started with the application process, please call our offices at (585) 344-2203.
Batavia
319 W. Main St.
Batavia, NY 14020
Brockport
80 West Ave
Brockport, NY 14420
Satellite Sites:
Albion
Arnold Gregory Building
243 S. Main St.
Albion, NY 14411

Medina
St Peter's Lutheran Church
1355 West Ave.
Medina, NY 14103

Le Roy
Calvary Baptist Church
8703 Lake Street Rd
Le Roy, NY 14482

Tonawanda Indian Reservation:
372 Bloomingdale Road
Basom, NY 14013
Primary Care

Get complete team-based health care that promotes wellness and prevention by encouraging and supporting you in your efforts.
Vision Care

Visit our friendly, well-trained staff, experienced with children, adults, and people with special needs. We accept patients ages three and up!
Pediatric Care

Our team wants to support the health and vitality of infant, child, and teen patients. And we can provide patients and their parents with high-quality services during evening hours.
Behavioral Health

Our team has licensed psychologists, social workers, and mental health counselors who can help adult, child, and teen patients with problems like depression, anxiety, stress, addiction, and post-traumatic stress disorder.
Dental Care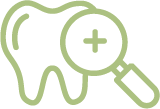 We offer dental care to children and adults at our Warsaw, Brockport, and Hornell locations, as well as on our Mobile Dental Unit. We focus on preventing dental disease by educating patients. And we can also restore and enhance the natural beauty of your smile.
Diabetic Education and Nutrition Counseling

Get one-on-one support, education, and self-management skills to live your healthiest life through our program, recognized by the American Association of Diabetes Educators.
Patient Engagement Services

Sometimes issues like lack of food or housing, unemployment, or language barriers affect patients' health. Our Patient Engagement team can connect you to the resources you need to get the health care you deserve.
Agricultural Workers

We're here for agricultural workers who often face problems getting high-quality health care. Some lack transportation. Some are coping with language barriers. And many can't afford to miss work for fear of losing their jobs. Oak Orchard offers a range of specialty services to help patients find their way through the health system with more comfort and less stress.
WIC Program

The Oak Orchard Health WIC Program provides eligible families with breastfeeding support, nutrition counseling, health education, health care referrals, referrals to other services, and nutritious foods. 
APPLY
Ready to apply for Women, Infants & Children (WIC)? If so, please fill out the application form below and submit it. Once we receive your application, you will be contacted to schedule your initial WIC appointment. Please note that the application form is not an automatic enrollment and that you need to attend an initial appointment to complete the enrollment process.