WIC: What is it? Who's it for? Surprising facts.
By Angela Shoemaker, WIC Program Coordinator, Oak Orchard Health.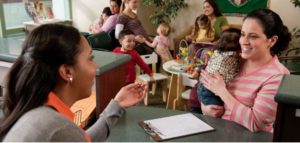 From healthy essential foods to breastfeeding support to tasty recipes and tips for keeping kids healthy and active, WIC offers a whole lot more than you may realize. And there is a lot we can do to help you take good care of your growing family. The Women, Infants, and Children (WIC) program is designed to help women who are either pregnant, breastfeeding, postpartum, or have kids up to five years old. It provides food and other kinds of support families need to live healthy lives. But you might wonder if WIC is right for you—or if you even qualify.
WIC is available to lots of people.
Many families in New York State work hard but still struggle sometimes to get by. You do not have to be unemployed to qualify for WIC. For instance, a family of four with $51,338 in annual income or less can qualify for WIC, whether that income is from one or two working parents. And if you already receive SNAP or TANF benefits or you're on Medicaid, you automatically qualify for WIC.
In fact, if you receive SNAP—also known as Food Stamps—WIC can be even more helpful because it helps pay for some of the basic nutrition your family needs to help your SNAP benefits go further.
Your eWIC card makes grocery shopping easy and convenient.
When you sign up for WIC benefits, you'll receive an eWIC payment card. It looks just like a credit card, it automatically pays for qualified groceries in your shopping cart, and it's automatically reloaded each month. Your eWIC card is a hassle-free way to take advantage of your benefits.
Enjoy the bounty of your local Farmer's Market.
There's nothing like fresh, local produce in the summertime. And our program supports local Farmer's Markets by providing you with funds you can spend on delicious local fruits and vegetables. Each participant over the age of 6 months gets $25 —and it is on top of your regular monthly benefits.
WIC can help with breastfeeding and so much more.
If you are pregnant or have a newborn, our expert staff can help prepare you on ways to feed your baby.  Our staff is trained to promote breastfeeding and provide the needed support new mothers and infants need for success. Additionally, WIC's breastfeeding program offers Breastfeeding Peer Counselors who have breastfed their babies and are eager to help you do the same. WIC even offers free breast pumps if you need one, as well as an increased food package to keep you well-nourished while you are breastfeeding. We are here to support you through your breastfeeding journey.
We also offer great nutrition advice, including tasty recipes you can make the foods you qualify for with WIC. And if you have other health care needs beyond our ability to help, we will connect you with someone who can—from dentistry to housing and many things in between.
It is easy to get started. Just give us a call.
If WIC sounds like it might be right for you and your family, call (585) 344-2203 and we will walk you through it. For details about the WIC program, visit our web page.